Fundraising
Click on one of the four links below to download a Fundraising Factsheet
Support your local hospital
Please help us to raise money to support the essential work of Lymington New Forest Hospital.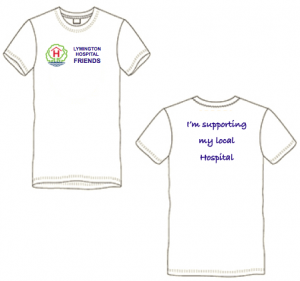 You can support us today, by taking part in an activity to raise much needed funds to support the Hospital and have fun at the same time.
Get one of our LHF Charity T shirts .. wear it with pride when you are fundraising for us.
Examples of fundraising activities carried out by our supporters include Personal Challenges, Raising money at work, Fun with Friends and Holding an Event (see opposite for more details).
Top 10 Tips
Choose your activity
Involve your friends
Set yourself a goal
Share your plans with us
Find your sponsors
Get ready
Promote it online
Have fun on the day
Collect your donations
Share pictures & stories
Have a go!
There are lots of different fundraising activities you could choose – then ask your family and friends to sponsor you to support Lymington Hospital.
1. Personal Challenges
Train for a marathon, 1/2 marathon or 10k run
Take part in an organised charity Skydive or Abseil
Set up your own Gym or Slim challenge
2. Raising money at work
Make us your 'Charity of the Year'
Hold a Raffle or Team Challenge
Set up a Donation Bucket
3. Fun with Friends
Hold a Coffee Morning, Fun Day or Charity Lunch
Arrange a Quiz Night .. use our Quiz Sheets
Organise a Book Sale, Bake Off or Plant Sale
4. Holding an Event
Arrange a Golf Day, Clay Pigeon Shoot
Hold a Barn Dance or Charity Ball
Set up a Charity Auction or a Race Night