Support your local hospital
Please help us to raise money to improve care and wellbeing at Lymington Hospital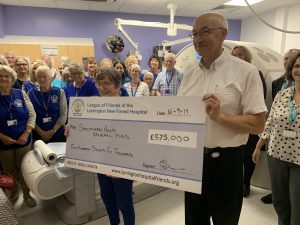 We raise money to improve patient care and well-being, like the presentation (12 September 2019) of a cheque for £575,000 towards the purchase of the hospital's new CT Scanner , which is delivering faster and more detailed scans to improve patient diagnoses … read the story here.
We value all your donations, which help us to support the vital work of Lymington New Forest Hospital. See schedule of Donations we have made.
How can I help to fundraise?
See loads of ideas and tips …
See what our supporters are up to:
Please support us today, by planning a fundraising activity or event to raise much needed funds to support the Hospital and have fun at the same time … hers are some great stories
Top 10 Tips
Choose your activity – see Toolkit
Involve your friends – why not form a team
Set yourself a goal – please aim high
Set up a Just Giving site – link to Lymington Hospital Friends
Find your sponsors – share on social media
Get ready – check out
Promote it online – remind everyone how important it is to sponsor you
Have fun on the day – be safe, follow guidelines, work as a team
Send in your donation – collect your money and send it to us
Share pictures & stories – let everyone know how well you did and inspire others too