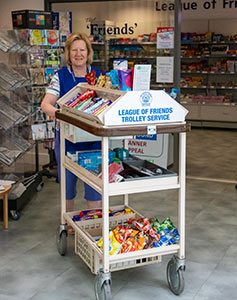 We welcome applications from people who can commit to working up to 4 hours per shift (dependent on the role) to provide an excellent service to our patients, visitors and staff.  Our Volunteers operate on a roster system, so you can choose to volunteer for one or more shifts. Reliability is key to efficient volunteering.  All volunteers are required to undergo a DBS check.
We pride ourselves on our volunteer services around the hospital:
Serving in the shop and café, a friendly face, a chat with the lonely or worried, giving information about the hospital, selling goods and cash handling
Ward trolley service takes our shop to the patients, with the newspapers in the morning and a selection of goods in the afternoon.  Many of our patients are elderly and some have no visitors.  The trolley service gives so much more than just selling!
Guides help people find their way to their appointments, giving assistance to use the computer-based check in system and show the way to the different areas of the hospital.
Ward Friends give their time to go and chat to the patients, bringing a cheery face and someone to talk to.
We sometimes need people with office and computer experience to support our Friends Office.