Lymington Bridge players deliver 'winning hands' for the hospital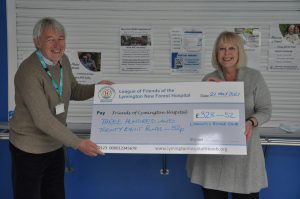 Chrissy Thomas (Secretary, Lymington Bridge Club) presents a cheque for £328.52 to Arthur England (Trustee and Joint Chair, Lymington Hospital Friends).
We are one of the two charities supported by Lymington Bridge Club in 2020. Normally, the Club holds a special 'afternoon tea plus bridge tournament' for the charities they support and have a draw at the annual Christmas Party to raise funds. Obviously, these events were not able to go ahead during lockdown as the Club has not been open for over a year.
… so they 'kept calm and played bridge online!'
Chrissy Thomas (Secretary, Lymington Bridge Club for the last 6 years) explained:
"We used a platform called 'BBO – Bridge Base Online', where members could chat without seeing each other, and several Lockdown Leagues with teams of 4 were in competition over 8 weeks. An entry fee was charged, and for the third round of the league in July, members were charged an additional amount for the two charities … this event raised £64 for each one.

The Club also held a 'virtual Christmas Party' on Zoom with members paying £6. 'Bridge and a Quiz' were played virtually on Zoom, with Tea (or alcohol) and mince pies 'enjoyed in solitary confinement' in each player's home!  Some members used the 'RealBridge' platform, where they were able to see and speak to their partner and their bridge opponents … and to wear 'funny hats' to get into the Christmas spirit!

'We are always very happy to support organisations such as Lymington Hospital Friends as our members are beneficiaries of the hospital's valuable work in the community. We only have a relatively small membership of 152 from the town and surrounding areas but we like to make small contributions where we can as well as enjoying playing bridge along the way!".
Arthur England noted:
"We really appreciate support from local clubs and societies to help us to raise money to regularly support the work of Lymington Hospital and improve patient care.

What an ingenious way to keep playing bridge during lockdown, you look like you had fun keeping the club going with online challenges.

A big thank you to Chrissy and all Lymington Bridge Club's members for their contributions, we hope you will soon be playing around the card tables again soon.

We hope you will become friends of the hospital to receive our newsletter too".