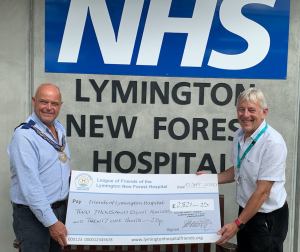 The members of the SW Area of the Hampshire & IOW Freemasons have been fundraising to support Lymington and Bournemouth hospitals.
This is Leon Whitfield (Assistant Provincial Grand Master of the Hampshire and IOW Freemasons) presenting a 'big cheque' for £2,800 to Arthur England (Trustee and Joint Chair of Lymington Hospital Friends).
Leon notes …
"One of the main activities of the Freemasons is our support to charitable causes in the community and during the lockdown our members raised money to support local hospital staff and key workers. 
Promoting health and well-being amongst our members and in the local community is an important part of what we do. We value the chance to provide ongoing support for the work of the hospital to care for our local community". 
Arthur comments …
"We really appreciate and value the magnificent fundraising by the local Freemasons to support our hospital, patients and staff during this challenging time. 
Due to COVID security guidelines, we have not been able to provide our normal volunteering services, but continue to fundraise for additional equipment to enable the hospital to enhance patient care and treatment for the local community".