Burley Golf Club's smashing Bladder Scanner Appeal
Arthur England (Trustee and Joint Chair) attended the Burley Golf Club's AGM for a formal presentation of £8,798.71 to enable the hospital to buy a mobile bladder scanner.
The Burley Golf Club Captains' Appeal smashed their £8,000 target to buy a Mobile Bladder Scanner for the hospital.
At last year's AGM, Mike Page and Jo Clarke (Men's and Ladies' Captains) launched their Bladder Scanner Appeal (see news article). Scott Curtis took over as Men's captain during the year to drive fundraising with Jo.
They enjoyed a packed year of events including raffles, quizzes, golf ball sales, sweepstakes, golf challenges, football cards, Captains' Day, bingo and even Ladies Croquet!
Scanner in action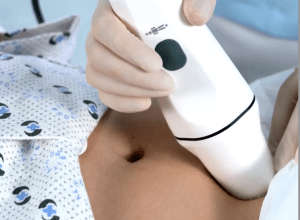 Jo and Scott explained
"The Captains' Charity is an important opportunity each year for the club to fundraise to help a good cause in the local community.

We have enjoyed many events during the year to fundraise almost £9,000 to enable the hospital to buy a mobile bladder scanner".
Arthur thanked everyone involved and added
"I am thrilled that Burley Golf Club smashed their target to raise £8,000 for a portable Bladder Scanner.

We value highly the opportunity to work with clubs like Burley to continue to raise funds in the community to improve patient care above that provided by the NHS".
Rachael Mejia (Divisional Director of Nursing and Allied Health Professionals, Southern Health) was unable to make the presentation, but she noted
"Thanks to Burley's Fundraising, the mobile scanner is actively in use, improving assessment and treatment for hospital patients and in the community. This enables staff to make an assessment of bladder complaints from a simple scan and commence treatment more quickly".