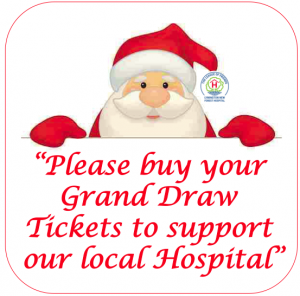 We are a charity (The League of Friends of the Lymington New Forest Hospital) that supports the Hospital to deliver a growing range of health, wellbeing and care services for over 100,000 local people. We are run by a voluntary Board of Trustees and many willing Volunteers who give their time freely to support the hospital.
Please support us …
by making a donation or buying raffle tickets for our Grand Draw … many great prizes!
How 'YOU' can help
Lymington Hospital Friends actively supports the hospital to deliver services above and beyond that provided by the NHS.
If you can support us, please:
The Hospital
The hospital provides routine appointments, walk-in and acute services. Where possible we aim to enable consultant diagnosis, treatment and care under one roof.
Find out more about:
How to Use the Right 'Local' Service
This information is provided to help people access the most appropriate NHS services, click on the link below for:
Please support our Grand Christmas Draw – thank you 

PLEASE join in with our Grand Draw, there are loads of great prizes, mainly donated by generous local businesses … see news article.
Tickets are on sale in the Hospital and other local outlets.
** Thank you for your support **
ULTRASOUND SCANNER TARGET
Our current target is to raise £90,000 towards the cost of two new Ultrasound machines to improve service to patients … you can Donate Online here.