Lymington Growmore Club plant £1,000 to help grow patient care ..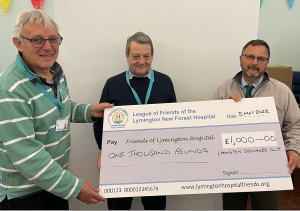 Arthur England and Mike Hodges collected a 'big cheque' from local farmer and outgoing club president Arthur Rolf at the Lymington Growmore Club's AGM last night.
Their meeting was held at the Young Farmers Hall in Tiptoe and attended by a lively group of farmers and their partners. The club awards prizes each year for the best crops and livestock and get together regularly to hold competitions with other farming groups, including ploughing events and a cricket match.
During the evening, presentations were made to Lymington Hospital, Oakhaven and Hampshire Air Ambulance, who also gave a very interesting presentation about their vital work.
Arthur Rolf explained
"Growmore clubs were set up in the second world war across the country to encourage farmers to 'grow more' food for the nation and Lymington Growmore are a very active group of local farmers 'young and old'.

 We  hold quizzes and other events including 'pig racing' to raise money for local charities. This year we are very pleased to donate £1,000 to the hospital Friends to help future projects as Lymington Hospital provides a great service to the local community".
In receiving the donation, Arthur England and Mike Hodges noted
"It's so good to have the opportunity to join your AGM and find out about the activities of the club. The ability of the Friends to continue to support Lymington Hospital projects relies totally on support from community groups like yours and individual donations. Thank You.

We invite you to become a hospital friend to keep in touch with our various projects and to feedback any ideas about how we can provide more help to patients.