Lymington Hospital Friends
What we do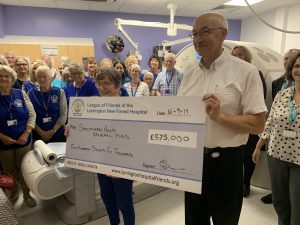 Our primary aim is to support the hospital and help to improve the care and comfort and wellbeing of patients, above and beyond what the NHS can fund and provide, we also consider support for staff welfare.
We provide:
an in-hospital service of volunteers (temporarily suspended during the COVID pandemic)
fundraising services, working with the local community and businesses to raise money to donate equipment to enhance patient care (see photo – presentation of a 'big cheque' for £575,000 towards the purchase of a state-of-the-art CT scanner)
Our Supporters
Lymington Hospital Friends is the hospital's charity.
We are run by:
a voluntary Board of Trustees
a group of wonderful Volunteers who give their 'gift of time' to work in the hospital and help us support events
engaging with a broad community of Friends who help share news about the work of the charity and with donations, fundraising and general advice and feedback
The Charity
Our working title is Lymington Hospital Friends and our full registered charity name is The League of Friends of Lymington New Forest Hospital (Charity No. 1070233).
Find out more about: