LYMINGTON NHS HEROES APPEAL
We need your help
Since the outbreak of COVID-19, we have had to temporarily suspend our normal volunteer services in the hospital and cancel all fundraising events … please support our NHS Heroes appeal. Thank you.
Help make a difference
Working with hospital managers we have:
facilitated deliveries of fruit and refreshments
provided fridges for ward staff and hand cream for staff wearing PPE
supplied camp beds as a contingency
delivered disposable car seat covers for community nurses and mobile phones for patients
arranged free newspapers for patients
We are currently developing resources for elderly, dementia and stroke patient activities at a time when normal visiting is restricted.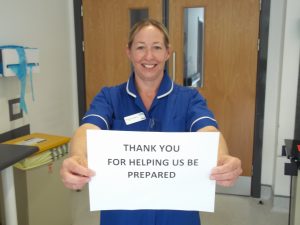 Many thanks for thinking of our hard-working teams at this time. I know that you are always thinking of us, but now more than ever it is appreciated. (Ben Goodwin, divisional director of AHP and Nursing)
Thank you for supplying the moisturising cream for staff and mobile phones for patients on the wards. We are very grateful for your kind and continued support. I can assure you it means a great deal to our staff. (Alison Davies In-Patient matron)
During crisis, we ask for your help to be ready to support the hospitals requests as they continue to adapt to provide local healthcare in these difficult times.
Thank you for your support … all donations really count
Please use the form below to send your donation … Gift Aid (UK taxpayers) will add 25% to help even more.
Donate Now ... you make real difference