Barton-on-Sea Golf Club Ladies' Captain, Penny Ramus has ended her year by driving past her fundraising target and raising an amazing £11,325 for Lymington Hospital.
A 'big cheque' was specially ordered for the Ladies' AGM to present to the Friends.
Penny Ramus explained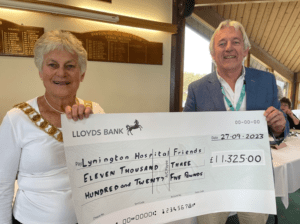 "As Ladies Captain this year, I chose to fundraise for the friends of Lymington Hospital and we have had a magnificent contribution from our lady members, with the men chipping in too.

Lymington Hospital delivers a tremendous service to local people and many club members and their families have received excellent care from the hospital and their wonderful staff. I'm thrilled that our fundraising campaign raised £11,325 to support the hospital."
Arthur England (Trustee and Joint Chair of Lymington Hospital Friends) thanked everyone involved and added
"Well done to Penny and all involved, especially Barton's lady golfers for such a fantastic donation, this will make a valuable contribution to our new campaign to help the hospital improve its vital Endoscopy services.

It is tremendous to have support from many local clubs, so that we can continue to raise funds in the community to improve patient care above that provided by the NHS. Penny also encouraged Barton members to become Friends of the hospital – well done Penny."
Can your club support us?
Find out more about setting up a club fundraising appeal by contacting our operations manager Ian Hynd operations@lymhf.org.uk.
Become a hospital Friend using this link.