A big thank you to Yo Fowler-Wright, Lymington Town FC Club Physio for organising a 'Run 5 Donate 5' Fundraiser using Lymington Hospital Friends' Just Giving site.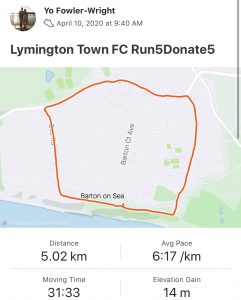 The players and local community took part by running 5 kilometres and donating £5 after completion. All teams, club officials and Lymington Town FC supporters helped raise awareness of the event to keep the momentum going.
The staff and patients at Lymington Hospital are very grateful for your support.
A representative of the club said …
"On behalf of Lymington Town FC we wanted to help support our local hospital in a time of national crisis, as they support us when players require medical treatment following match day injuries. 

We as a club are very grateful for everything Lymington Hospital has done for our Senior and Junior players over the years and are glad we could do our bit in return".

Lymington Town Football Club and its junior-youth section known as "Sprites" ( Lymington Town FC – Sprites) are an integral part of the Lymington and Pennington Town area plus surrounding villages with players from 6 Years old through each age group team into U18 then into senior football from 16 as well up to 60 (Vets). We have 18 teams and now have a girls (only) FA Wildcats centre plus Girls only Teams for the first time. If anyone wants to join any of our junior, girls or adult teams please email play@lymingtontownfc.co.uk