"Mission Accomplished"

The Friends have given the hospital a fresh new look to help people find their way around.
We have designed, funded and installed a large welcome banner, a new wayfinding map and colour-matched signs to all key departments to improve the patient and visitor experience.
Arthur England, Joint Chair and Trustee led the design, working with hospital managers and staff to develop a simplified set of signs to guide patients, carers and visitors to their destinations.
Hospital Map

At the centre of the new design, is a colour-coded hospital map which shows the location of each main department on the ground, first and second floors.
Many patients visit the Hospital 'by appointment' for consultations, diagnostic tests and minor procedures, they are advised which reception desk to report to, for example Reception A for Outpatients.
Showing the way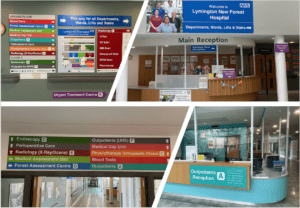 Linked to the colours in the Hospital Map, large clear directional signs show patients, carers and all visitors how to follow the best route to their destinations.
We reviewed the design and positioning of these signs with managers, staff, patients and visitors during the project to ensure they are more visible and better located.
New signs, names and access points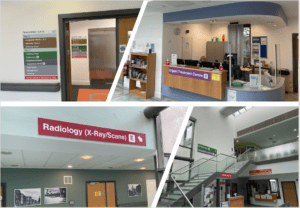 New large print signs have been added to the lifts and the stairways to help people find their way to the Wards and Departments on the first and second floors.
We also took the opportunity to update the signs from 'Imaging Suite' to 'Radiology X-Ray/Scans' and added a panel to list the different types of diagnostics – such as X-Ray, CT Scan, MRI, Ultrasound, DEXA and Fluoroscopy.
Urgent Treatment Centre – new Reception B
During the project, the Urgent Treatment Centre (UTC) moved its reception to the Hospital Atrium and patients had to be guided to access the UTC through the main entrance .. and to follow the 'purple arrows'.

Printing and Installation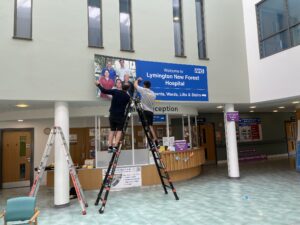 During the design, we worked with Sign it, a local printing company on the Ampress Estate, to create over 130 signs.
Brian and Connor can be seen positioning the large welcome photo and banner, which greets people as they arrive in the Hospital.
Feedback
If you have any comments relating to the new signage, please email communications@lymhf.org.uk.