Local donors support new physio gym at Lymington hospital
Following a joint appeal by Alaine Brooks (Lead MSK Physiotherapist at Lymington Hospital) and Arthur England (Trustee and Joint Chair of Lymington Hospital Friends), a new physio gym has opened in the hospital.

The fundraising target was smashed by two fantastic donations from local people totalling £27,250. A massive "thank you" goes especially to Dr Michael McCabe, who donated a magnificent £20,000, boosted by £5,000 in gift aid.The gym is now fully installed in Lymington Hospital's Physio department and Michael McCabe attended the opening this week (Tuesday 12 April) to formally launch this fantastic new facility for patients.

The ribbon was cut by Dr Brian Davidson, consultant rheumatologist at University Hospital Southampton, whose treatment in 2016 saved Michael from life-threatening illness. (Dr Davidson holds a weekly clinic at Lymington Hospital.)

Michael explained:
"My late parents enjoyed long and happy careers in the NHS. I received fantastic treatment over several years for a life-threatening condition and the NHS got me back on my feet and able to take up running again as a keen member and former president of the New Forest Runners.

When I saw this campaign, I immediately contacted Alaine to find out how to support the Friend's appeal. I'm thrilled to have this opportunity to say thank you to the NHS for my own recovery and to make this donation in memory of my parents, recognising their long careers in healthcare".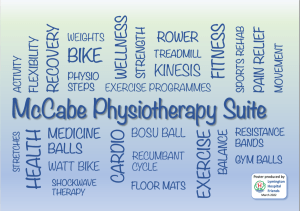 Alaine noted:
"This has been a fantastic project and we have received lots of positive comments from our patients already.

With Michael's very generous donation, I have been able to buy high quality professional gym equipment that will allow us to take our patients through specially tailored exercise programmes to help build their strength and independence.

Thanks to Michael's brother Andy, formerly Director of Operations at Greenwich Leisure, we have been able to purchase top quality equipment at a favourable price.

In Michael's parents honour, we are naming this wonderful facility the 'McCabe Physiotherapy Suite'. Our next step is to open access to the gym for staff to use outside patient hours, to encourage their health and wellbeing."
Arthur added:

"The work of the Friends can only take place with the help of donations from the public and it has been tremendous to meet Michael and to work with him and Alaine to create this modern facility to improve patient care. I'm pleased to see that the gym can also become a valuable healthcare benefit for the staff at Lymington too.

We are working with the hospital on several new projects and welcome your help by becoming friends of the hospital and making donations to support new facilities, find out more on the Friends' website www.lymingtonhospitalfriends.org."
Staff Gym Access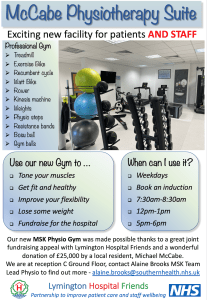 Alaine is arranging the protocols for staff use of the new physio gym outside patient treatment times.
Use our new Gym to …
Tone your muscles
Get fit and healthy
Improve your flexibility
Lose some weight
When can I use it?
Weekdays
Book an induction
7:30am – 8:30am
12:00pm – 1:00pm
5:00pm – 6:00pm