Green fingers at work!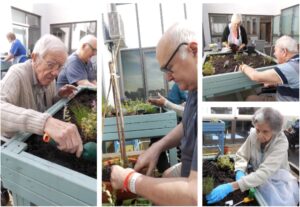 Patients are enjoying the 'new season' outdoor therapy garden in the mezzanine roof space on Deerleap Ward.
Over the last few months, we have been working with the Stroke team on Deerleap Ward to bring their mezzanine therapy garden back to life.
It had fallen into poor repair and the planters were in need of some 'hands on DIY' before we found some fresh plants.
Mike sorts out the DIY and materials
Mike Hodges  (Trustee and Joint Chair) collected the old raised planters and took them home to repair and repaint in fresh modern colours to give them a new lease of life.
There are two L-shaped planters and three square planters, one of them was lowered to suit patients using wheelchairs.
"Thanks to George Farwell for kindly donating the timber needed to refurbish the raised beds and to Patrick Fairweather of Fairweather's Garden Centre, Beaulieu for generously donating bags of fresh compost and a collection of herbs and bedding plants" 
Stroke patients tackle the re-planting
When everything was ready, the Occupational Therapists set some of Lymington's patients to work.
The pictures below show them carefully replanting the raised beds with the new herbs and bedding plants, ready to be enjoyed and kept in good shape by patients this summer.
Firming up the soil round a new plant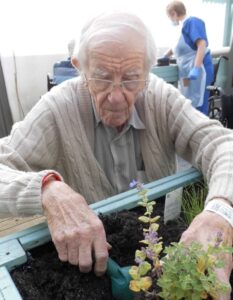 Gloves on to get the job done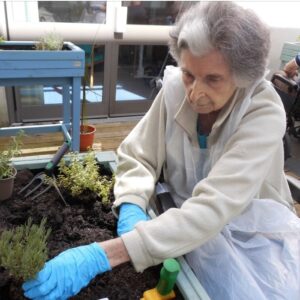 Tackling the corner spot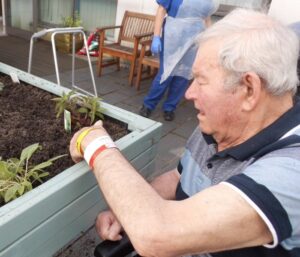 Potting up a wigwam