Lymington Hospital Friends focus on projects in 2021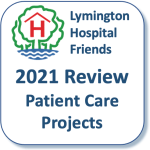 With COVID continuing to 'lockdown' the Hospital to essential patient care only, we were unable to re-start our in-hospital volunteering services this year. We are planning to commence some services early in 2022, subject to the hospital's COVID guidelines.
During 2022, we took the opportunity to develop a number of projects with front line teams across the hospital and run fundraising appeals to support them.
Patient Care Projects
We have been able to secure over £70,000 in funding this year.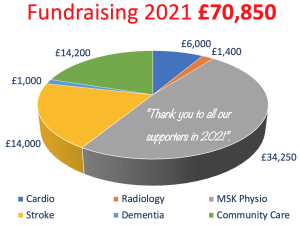 This was for a wide range of projects to improve patient care, some are already live, others come on stream in 2022.
"Your ongoing support is highly valued by the hospital, patients and staff. Thank you."

Arthur England and Mike Hodges (Trustees and Joint Chairs LHF).
Project Review 2021