Our patients need your help ..
In his role as a clinical specialist physiotherapist in orthopaedic care working at Lymington Hospital, Mike Ord is asking for your help to improve treatment for people with chronic conditions.
** STOP PRESS**
Thanks to a tremendous personal donor Mike has received the full cost of this equipment. The machine has arrived, and Mike will be developing the new services over coming weeks to help patients with long-term tendon issues. Sept 2021
Mike explains how shock wave can help patients …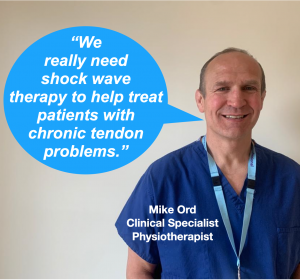 "Shockwave therapy is a novel, non-invasive, sound-wave based treatment that can be used for a variety of common and debilitating soft tissue problems.

These include plantar fasciitis, Achilles tendinitis, hip bursitis and tennis elbow. Passing short, intense sound waves into these painful tissues can increase blood flow, reduce pain and stimulate tissue repair".
How will it benefit Lymington patients Mike?
Conditions such as Achilles tendonitis do not always respond to the usual regime of non-invasive treatments used by clinicians within Orthopaedic Choice.

The added provision of powerful and portable Shockwave Therapy equipment will allow Orthopaedic Choice to offer an additional, convenient, low-risk treatment option for such patients. 

It has been shown, in one of our neighbouring NHS trusts, to significantly improve pain relief in about 75% of patients, be associated with 82% patient satisfaction, zero complications, and 92% of patients would recommend the treatment to their friends and families. Help me raise £7,000 to bring this service to Lymington".
Arthur England (Joint Chair and Trustee, Lymington Hospital Friends) added …
"We are keen to support Mike and his fellow physio team to buy Shock wave equipment for the hospital to improve the recovery of patients needing extended treatment for chronic problems.  

Please help us to raise £7,000 for this important news service by donating online (if you add Gift Aid, it will increase your gift by 25%). Thank you"