Barton-on-Sea Ladies' Captain Appeal 'Drive-in'
Penny Ramus has adopted Lymington Hospital Friends as her Captain's Charity this year to raise funds for our wonderful local hospital.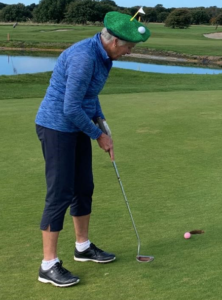 Penny started her year as Ladies' Captain at Barton-on Sea Golf Club with the traditional 'Captain's Drive-in' on Needles 9 hole (the green is an island, surrounded by water).
Wearing a splendid golf hat (see photo) and watched by a large group of fellow club members and family, she landed on the green with her first shot … sailing over the water hazard.
Penny explained
"The Captain's Charity is our opportunity for the club to raise funds and have fun with a number of club events over the coming twelve months. So please … get your clubs out, help me drive off and all pitch in!

We have made an excellent start by raising over £750  from members at the Drive-in ["well done Penny" .. Arthur].

Lymington Hospital delivers a tremendous service to local people and many club members have received excellent care from their staff and facilities. I'm encouraging our members to become a Friend of the Hospital to support their excellent work."
Arthur England replied
"I am thrilled that Penny and her lady club members have chosen Lymington Hospital Friends as Penny's charity appeal this year. We value the opportunity to work with Barton's golfers on this appeal and hope that many of them with become hospital friends too.

I really enjoyed the recent opportunity to visit the club and meet with Penny to learn more about the range of fun activities they have planned to fundraise.

The club's support will help us to provide essential improvements to care at Lymington Hospital. Thank you."  
Great shots from the Drive-in event