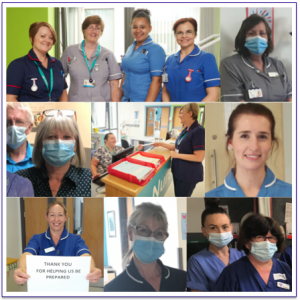 Please donate today to support patients and staff during the Coronavirus COVID-19 crisis.
We need your help
Since the outbreak of COVID-19, we have had to temporarily suspend our normal volunteer services in the hospital and cancel all fundraising events … please support our NHS Heroes appeal. Thank you.
Help make a difference
Working with hospital managers we have:
facilitated deliveries of fruit and refreshments
provided fridges for ward staff and hand cream for staff wearing PPE
supplied camp beds as a contingency
delivered disposable car seat covers for community nurses and mobile phones for patients
arranged free newspapers for patients
We are currently developing resources for elderly, dementia and stroke patient activities at a time when normal visiting is restricted.