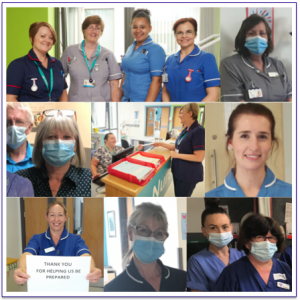 Please donate today to support patients and staff during the Coronavirus COVID-19 crisis.
We need your help
Since the outbreak of COVID-19, we have had to temporarily suspend our normal volunteer services in the hospital and cancel all fundraising events … please support our NHS Heroes appeal. Thank you.
Well done local businesses
In response to the increasing pressure on hospital staff, we have received goods and services at preferential rates from a number of great local businesses.
Thank you for helping us to support our fantastic hospital staff at this difficult time:
Asda Totton – supplies of tea and coffee for hospital staff
Dayfold Print Ringwood – urgent printing of posters, postcards and leaflets for our Support Your Local Hospital appeal
Go Outdoors Southampton – 10 Camp Beds for the Hospital
Hardys Electrical New Milton – supplied 5 Fridges for ward staff
New Forest Ice Cream – delivered free ice cream for staff
Senspa at Carey Manor Brockenhurst – donated  10 litres of hand lotion to combat dry and cracked skin from wearing additional protective equipment
Tesco – supplied 4 Mobile phones for patients to receive calls from relatives and friends
Tesco Metro Lymington – delivered free food hampers and in-store collection point for donations of treats for hospital staff
Village Veg Brockenhurst – setting up a weekly delivery of fruit for hospital staff
Waitrose Lymington – supplied free fruit for hospital staff
Your support really makes a difference