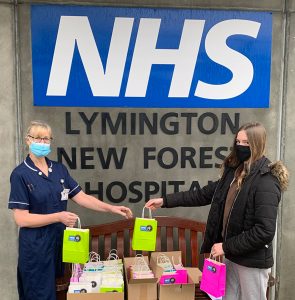 Raising a smile …
Lucy Bailey has raised over £200 in donations to put together 'pamper packs' for the nurses at Lymington Hospital and can be seen today delivering her packs to Alison Davies (Integrated Services Matron).
Beautifully packaged up in colourful bags with bespoke 'thank you' stickers (donated by a local printing firm), Lucy's gift packs are a treat.
A magnificent effort – well done Lucy!
Lucy explained that …
"I just wanted to show the nursing staff how much everybody appreciates their hard work, particularly during the COVID pandemic. I've made up my packs with some personal care items … and a little chocolate!".
Alison thanked Lucy, noting …
"Our staff really appreciate your thoughtfulness and the time you have taken at your own initiative to put these packs together. The hand creme is very welcome and lip salve is a must as we have to wear masks all day … and a chocolate treat always hits the spot".