Sometimes … it's the little things!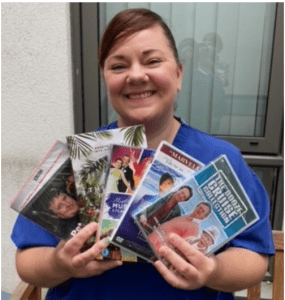 Suzanne York (Occupational Therapy Assistant) keeps sending us 'wish-list' items to improve the activities the therapy team can provide for stroke patients … and we love to help!
Recent requests include a range of craft supplies and a colourful trolley to keep them in .. see below.
Film Matinees
This time, Suzanne's asked for more movies and tv shows for the patients' afternoon matinees to help keep them entertained and share memories of some old favourites!
"Our film sessions are a great hit! It really helps patients to relax after lunch to watch something interesting like an episode of David Attenborough's 'Green Planet', laugh along with Peter Kay's 'Car Share' or watch an old classic like frank Sinatra in 'Guys and Dolls' … we can take a peek too! 
Hospital Rocks
Using the pens and varnish from the craft supplies, Suzanne has been asking patients to decorate 'hospital rocks' that she can take out on dog walks and leave for people to:
photograph
upload to her new Lymington New Forest Hospital Hot Rocks Facebook page and
move to a new location.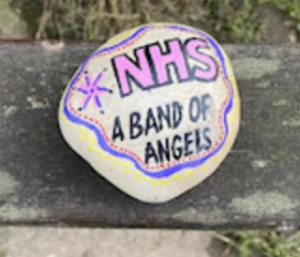 Craft Activities and Trolley

Today, we donated a craft trolley to store and deliver items to patients for individual and group craft activities (see picture with Suzanne's fellow OTA Cathy Barnes loading up the new trolley).The craft supplies include:
felt tip pens
glue sticks
stencils
paintbrushes
acrylic paint pens
varnish
coloured beads
coloured wool
paper plates
coloured feathers
lantern kit
and classic old DVDs … for nostalgic entertainment
Your donations make a difference
"We support patient care with both capital equipment projects and smaller resources like these … your continued donations make this possible …"