Supporting patients and staff on the wards is a vital part of the work carried out by our Ward Friends … they help in a number of ways
chatting to people who are lonely, many with no regular visitors
enriching a patient's day with crafts or other activities
reassuring patients who are anxious about being in hospital
helping to support elderly patients, some with dementia
providing pastoral support for seriously ill patients
simply acting as a 'friend' on the ward to cheer people up
taking a patient in a wheelchair for a 'trip' around the hospital
Becoming a Ward Friend
Find out more about how to apply to be a Ward Friend …
You will receive guidance from Louise Harfield (LHF Operations Manager), and training from Alison Davies (Hospital Matron) and Linda Lee (Hospital Chaplain).
You will always have supportive fellow volunteers and staff on hand if you have a question .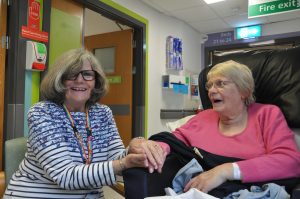 Pastoral Support
Margaret carries out a specialist role of pastoral support for seriously ill patients, working closely with Linda Lee, our Hospital Chaplain.

'Taken for a spin'
Graham is often seen taking elderly patients out of the wards 'for a spin' around the corridors and sitting with them for a chat in the cafeteria.