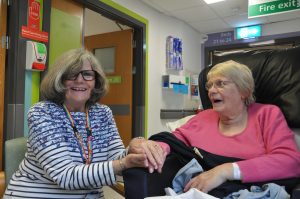 Help us support patients, carers and visitors on our busy wards at Lymington New Forest Hospital.
Ward Friends volunteer alongside nursing staff to offer our patients a friendly face they can chat with.
Supporting Patients
Supporting patients and staff on the wards is a vital part of the work carried out by our Ward Friends … they help in a number of ways
chatting to people who are lonely, many with no regular visitors
enriching a patient's day with crafts or other activities
reassuring patients who are anxious about being in hospital
helping to support elderly patients, some with dementia
providing pastoral support for seriously ill patients
simply acting as a 'friend' on the ward to cheer people up
taking a patient in a wheelchair for a 'trip' around the hospital
How we support our Ward Friends
You will receive guidance from Louise Harfield (LHF Operations Manager), and training from Alison Davies (Hospital Matron) and Linda Lee (Hospital Chaplain).
You will always have supportive fellow volunteers and staff on hand if you have a question .
Volunteering on Lymington Hospital Wards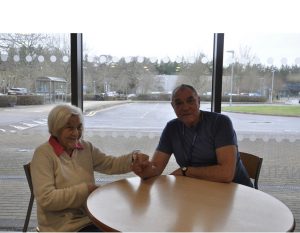 We welcome applications from people who can commit to working typically from one to two hours per shift as a Ward Friend to provide excellent service, care and support to our patients, visitors and staff.
You will be reliable, patient and have good listening and communication skills.
You may see some patients several times. However, unlike befriending, Ward Friends do not build long term relationships with patients and only have contact during their stay in the hospital.
You will work closely with nursing staff, supporting them to provide care and wellbeing for patients
You may find yourself talking with carers, friends, families and other visitors. They often also benefit from a comforting chat and reassuring smile.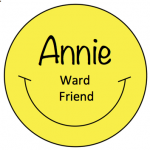 All our new Ward Friends will receive induction training and support from existing volunteers. You will receive training, counselling and support from the Matron, staff and the Chaplain. There will additionally be involvement, training and support from the therapy team with organised activity programmes.
How do I find out more or Join today?
To apply, please download and complete the:
Ward Friend Volunteer Application Form Jan 2020 and return to Louise Harfield, Lymington Hospital Friends, Wellworthy Road, Lymington SO41 8QD.
If you have any questions, please contact Louise Harfield (Operations Manager) in the Friends' office weekdays 9am-5pm. Drop in for a chat or phone 01590 663036.