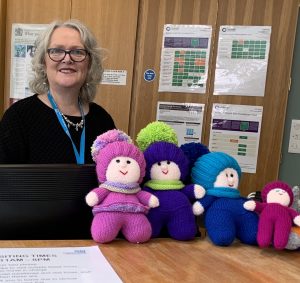 Dawn Hadley is one our our friendly receptionists, helping people find their way to appointments.
Knitting for you
Her colourful happy bunch of knitted friends keep popping up on her desk.
They work hard for the hospital too!!
She has raised £4,300 from selling craft toys and goods in support of the Hospital.
Well done Dawn, that is a marvellous effort and your knitted families bring a smile to our patients, visitors and staff!
"Keep it up Dawn, we really value all your hard work"