We are celebrating the successful launch of the new CT Scanner service at Lymington New Forest Hospital. Our scanners are in daily use for a range of diagnoses from minor injuries and general healthcare to critical life threatening diseases.
Big Cheque
A group of volunteers, including Anne Sherwood gathered in the CT suite to present a 'big cheque' for £575,000 from League of Friends of Lymington New Forest Hospital to Andrew Purves (Lead Radiographer) and Rachel Anderson (Clinical Director) for the new CT Scanner.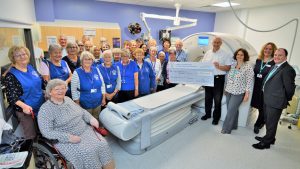 [photos taken by Steve West, New Milton Advertiser and Lymington Times]
Community Hospital … local service
Mike Hodges, joint  chair of the League of Friends said:
"The Lymington New Forest Hospital is our local community hospital which is readily accessible to the local population. For many people, this means that a lengthy trip to Southampton or Bournemouth (with transport, traffic and parking challenges) can be avoided, whether to attend for investigations, routine outpatients, blood tests, have minor injuries treatment or as an inpatient or visitor. The scanner is a vital part of upgrading the hospital's equipment and will not only enhance our patient experience but will help to provide the medical staff with the state-of-the-art equipment they need to continue to give the highest standard of care to our patients".
Fundraising
This was the result of fantastic fundraising and a major contribution from the Friend's reserves. We are now raising funds for two new Ultrasound machines and a new MRI Scanner. 
Please support us with your donations, find out how to make a donation here.