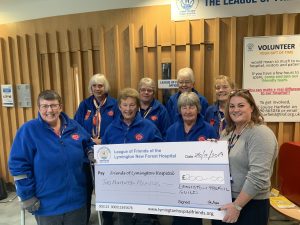 Seven lovely ladies from the Lymington Trefoil Guild came into the Hospital to present the Friends of Lymington Hospital with a cheque for £200 from a Carol Service in St Thomas' Church, held in September.
Thanks to Carole Deacon (President), Jean Lawford, Pat Harris, Linda Matthias, Pauline Tomkins, Gill Pope and Erika Rutter … seen handing a cheque to Lou Harfield (Friend's Operations Manager). Jean, Pat and Gill are also part of our fabulous volunteering team at the hospital.
The Trefoil Guild is a branch of Girlguiding and its members agree to support the guiding ethos – including the pledge to help other people.