New flexible visiting times
From 1 February, in response to patient requests, Lymington Hospital has adopted longer visiting times as shown below.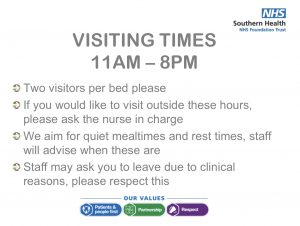 This will support a more flexible approach to visiting and hopefully involve relatives more in decisions, discussions and physical care. It will also support our older visitors and those using public transport.
We hope this will have a positive impact on the patient's hospital experience and be helpful for families, carers and friends taking the time to support our ward patients.
Things you need to know
To make flexible visiting times work around a busy schedule of patient care, we ask that visitors please note that:
there are times when you may be asked to leave due to clinical or privacy and dignity reasons
arrangements for meal times, rest and therapy times may interrupt your visit
if staff are busy, there may be delays in the time staff can respond to the entry bell and also relatives questions and requests for information.
Thank you for visiting people in hospital, your visits are a valuable part of their stay and aid recuperation.