Why we need to upgrade our Scanners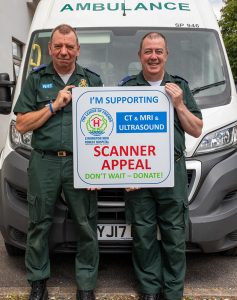 Our fundraising challenge is to raise £1.39M to replace the hospital's ageing radiology equipment, with modern efficient scanners, namely:
CT scanner
Two Ultrasounds and
MRI scanners.
 Key benefits include:
Faster, safer scans
Improved patient service and comfort
Quicker clinical diagnoses
Better operational use for staff
Lower radiation doses
Future-proof  radiology services at Lymington
Local provision to community, without need to travel
The business and operational impact of failing to replace outdated radiology equipment will impact the hospital's service as the existing scanners become obsolete; this will have a serious impact on clinical services and costs.
CT Scanner:
We have achieved the first stage in our scanner appeal, with the commissioning of the new state-of-the-art CT scanner in July 2019 … see news story Big Cheque £575,000 helps buy new CT Scanner.
Ultrasounds:
Potential to develop a 3D imaging ultrasound service
Higher image quality and definition
Reduced patient radiation doses and contrast exposure
Reduced need for some patients to require a CT
Lighter user friendly and ergonomic equipment for staff use.
MRI:
Significantly faster sequencing
Reduced time patients need to remain still
Improve patient comfort and shorter scans
Faster throughput of the scanner and efficiency
Enhanced imaging.