Why we need to replace the old Scanners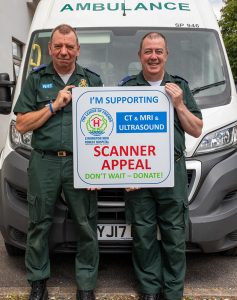 The Lymington CT scanner was 11 years old in August 2018. The service life of this type of equipment is generally estimated to be a maximum of 10 years and therefore there is a requirement to replace this equipment as soon as possible.
In addition, the MRI is 8 years old and will require replacement in 2020.
Our ultrasound machines are currently 5 years old and should have been replaced in 2018.
The business and operational impact on failure to replace radiology equipment will result in a less comprehensive service offering at LNFH as the existing scanners become obsolete; this will have a serious impact on clinical services and costs.
The purchase of new scanners will reduce the need to outsource cardiac scans to neighbouring Trusts, reduce the contrast agent costs and create the opportunity to increase income through cardiac scanning.
The existing equipment is deteriorating and will become more unreliable and eventually will no longer be supported by manufacturers. This eventual loss of ability to provide for example, CT scanning at Lymington, is expected within 2-3 years, with the consequent loss of essential services for patients and clinicians as well as the cost implication of outsourcing scans (c. £560,000 p.a. increasing year on year)
Proposal key benefits
New CT scanners will offer the following quality improvements in terms of both quality of images, patient safety, efficiency and improved access and scope of diagnostics for the local population of the New Forest and this highly regarded clinical service:
CT:
Greatly reduced radiation doses to patients – the proposed scanner gives doses of approximately one fifth to one quarter of those given by our current scanner.
New scanner would acquire 256 images per rotation compared with 64 on the present one, greatly reducing scan times.
Significantly reduced doses of contrast agents are possible, with resulting reduction of nephrotoxicity risk to patients and cost reduction. New injector would provide ability to tailor a dose of contrast to patient's weight without wastage as with present system, and reduce doses used by approximately half. Contrast agent carries risk of kidney damage, which is reduced by smaller doses.
Greatly increased scanning speed improves patient experience by reducing the need for breath-holding and reducing breath-hold times.
Scan quality is also improved due to reduction in artefacts from breathing and patient movement.
A new scanner would enable Lymington to perform a wider scope of diagnostic interventions such as cardiac scans including coronary artery calcium scoring. Patients requiring cardiac imaging are at present sent to UHS or Bournemouth, with associated costs and poorer experience for local patients.
New scanner would permit ultra-low dose chest CT. This is a technique being piloted by NHS England to screen for lung cancer. This is not possible on the current scanner owing to high radiation dose.
Updated software would allow greater diagnostic capability than current equipment by enabling new scan techniques such as 'virtual non-contrast' scans in compromised patients.
Greatly improved metal artefact reduction. Metal implants obliterate adjacent images. This effect is especially relevant with our older population's high proportion of patients with metal joint implants.
Improved reliability. The old CT scanner is staring to suffer reliability issues associated with age.
 Ultrasound:
Potential to develop a 3D imaging ultrasound service for some scans we undertake already (predominantly gynaecology) should the appropriate software be purchased as part of the package.
Improvements in image quality and definition of ultrasound scans may reduce the need for some patients to go on to require a CT, therefore reducing their radiation dose and contrast exposure.
Reduced risk of musculoskeletal injuries for sonographers from frequent use of heavy probes, as the newer machines are not only lighter, but much more user friendly and ergonomic.
MRI:
Newer MRI scanners have significantly faster sequencing, which means that at the key points in scans, patients need to remain still for a shorter period (2.5 minutes vs. 5 mins). This will not only improve patient comfort but also provide a better experience for those patients who may experience some claustrophobia. Faster sequencing will also improve the throughput of the scanner. We will also gain additional scanning time each year (approximately 2 days) as new machines do not require helium fills.
Newer software and technology of MRI scanners also enables enhanced imaging in areas of high fat deposition and using "Multi B values" allows superior imaging for patients undergoing an MRI of their prostate, pelvis or abdomen.
 Key benefits include:
Increased clinical benefit to patients and referrers (see above) and the reputation of the Department in attracting new staff.
The purchase of new scanners with League of Friends' support will enable the Trust to maintain CT services at Lymington for the next 10 years.
There are significant improvements to radiation safety.
YEAR ONE 2019/20 to support the purchase of a replacement CT £1.2m and one USS machine £90,000 TOTAL £1.29m
YEAR TWO 2020/21 the replacement MRI £1.5m and one USS machine £90,000 TOTAL £1.59M.