We're looking for a Fundraising Champion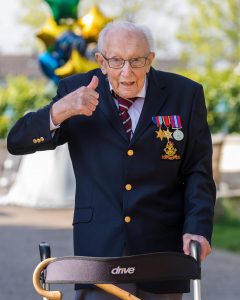 Were You inspired by the magnificent achievements of the late Sir Capt. Tom Moore?
Are you an enthusiastic person who is good at fundraising, enjoys dealing with people, wants to help the local community, is active on social media and … 'do you want to make a difference?'.
You could volunteer with us to help to raise funds for key projects to improve Patient Care at Lymington Hospital.
We need your help to raise money over and above that provided by the NHS.
Our Patient Care Campaigns in 2021 so far are:
In addition to promoting fundraising in the hospital, we use:
news items on our website, press releases and newsletters
social media and community posters
community fundraising, through our Just Giving site
local events – limited in 2021/21 due to COVID restrictions
What will the Volunteer Fundraiser do?
You will volunteer principally from home for a few hours flexibly each week.
You will support our trustees to take our fundraising 'up a gear', by:
Getting to know the activities and tools we have in place
Meeting key hospital staff to learn about current projects
Supporting our fundraising campaigns
Coming up with new ideas to involve local families, clubs and societies
Actively promoting our campaigns on social media
Helping us to hit fundraising targets
How to apply
In the first instance, please send an email, with a brief CV to communications@lymhf.org.uk outlining:
your reasons for wishing to become a Volunteer Fundraiser
your previous charity fundraising experience
your skills and connections
As a hospital volunteer, you will need a DBS Check.
We will contact you to provide further information and answer any questions you may have … if you prefer to chat first, please send an email with your contact details and we will call you.
If you wish to be considered as a Volunteer Fundraiser, you will be invited to attend an interview.
Thank you for showing an interest in the work of 'the Friends', we look forward to hearing from you.